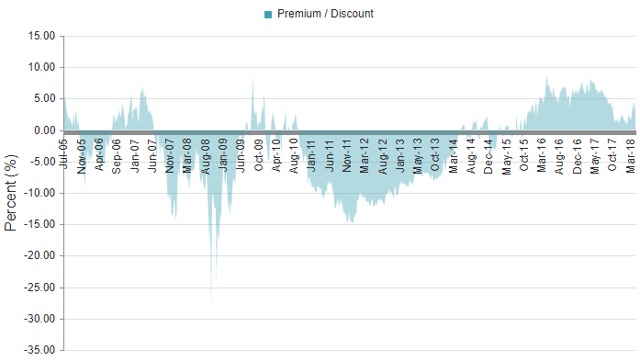 Eaton Vance Tax-Managed Buy-Write Opportunities Fund (ETV) is a good-sized fund offered by Eaton Vance with net assets of $948.273 million. The fund has an inception date of 6/27/2005. The fund's objective is to provide current income and gains, with a secondary objective of capital appreciation. The strategy utilized to achieve the stated objective is through investing in a portfolio of common stocks and write call options on one or more U.S. indices on a substantial portion of the value of its common stock portfolio to generate current earnings from the option premium. The management evaluates returns on an after-tax basis and seeks to minimize and defer federal income taxes on the distributions it pays.
According to the last fact sheet available on the fund's website dated December 2017, it had call options written on 95% of the stock portfolio. The earnings that are produced through its options strategy are paid out in the form of return of capital which lowers the cost basis of the shares held. With ROC used in its distribution, the tax obligation is deferred until the shares are sold from an investment account. While this is generally viewed as a positive, I would like to point out that no one can be certain what tax changes or tax rates the future can hold, but it is generally viewed as a positive to defer tax liabilities.
Premium/Discount
This fund has traded at premiums and discounts since its inception in 2005.
Source – CEFConnect
From mid-year 2010 to early 2014 had you bought this fund, you would have been one of the lucky ones to buy a spectacular fund at a discount. The market price is currently at $14.99 with a NAV price of $14.57 giving this fund a premium of 2.88%, while the last year average discount is at 4.10% giving this fund a z-score of -0.60. This is not a tremendous premium like some other funds trade at, but I generally do not like buying funds at premiums when I know having some patience may provide an opportunity with a better entry point.
Being that ETV is at a negative z-score, however, may indicate that now is still an okay time to buy. I did purchase some shares in January while it was at a lower premium but was hoping to add more at some point.
Performance

Source – ETV Fund Website
The S&P 500 has an annualized return rate from March 2008 through March 2018 of 9.843%, putting ETV in line with the last 10-year total returns. The past cannot be relied upon for future returns, but is generally a good reference to see what a fund is capable of and how it compared to the S&P 500.
It appears in the last 1 year, the market price of ETV has lagged the NAV, which would indicate why the z-score is currently negative for the 1-year period. This is a good sign that it is due to NAV outperforming the market price rather than a downward trend for last 1 year of market price.
Distribution
ETV has a managed distribution policy and currently pays out $0.1108 monthly, giving it a yield of 8.87% and a NAV yield of 9.13%. This payout has been the same since December of 2010 except for prior to January 2013 the fund had quarterly distributions.

Source – CEFConnect
When looking at a CEF that utilizes options strategies for income, you cannot just look at UNII or NII to see if the distribution is being earned, one helpful way to be able to tell is to see if the NAV is declining which would indicate that the ROC being used is not destructive or eroding the NAV.

Source – CEFConnect
Of course, this isn't foolproof as there are years where the broader market is down itself, indicating the underlying positions within a CEF would also most likely be depressed.
Other Eaton Vance Option Income Funds
Eaton Vance offers quite a few different CEFs that have an options strategy to achieve the stated objectives. Eaton Vance Tax-Managed Buy-Write Income Fund (ETB) is very similar to ETV, ETB has the same investment objective and strategy. It is actually at a slight premium of 1.77% with a share price of $15.54 and NAV price of $15.82. The top holdings in both funds are very similar at this moment too, but when looking back at total return performance ETB is showing a 10-year total return of 8.41% on NAV and market price return of 9.76%. The 1-year return, however, is lagging ETV quite significantly at a NAV return of 6.08% for ETB vs. the 10.36% for ETV as shown above.
Eaton Vance Tax-Managed Diversified Equity Income Fund (ETY) is another fund with the same objective, but utilizing a strategy of holding domestic and foreign common stocks with an emphasis on dividend-paying stocks and writing S&P 500 Index call options. ETY currently has a distribution of 8.57% and is sitting at a slight discount of 1.67%, although the 1-year average discount is 2.95%, giving ETY a positive z-score of 1.30, meaning this fund is relatively overvalued compared to its 1-year average discount. Looking at ETY's performance, the last 10-year annualized lags the other two Eaton Vance funds quite a bit at 7.60% for the NAV, but the 1-year return for the NAV is sitting at 11.32% and a market return of 12.54%, so now may not be a bad time to consider looking further into ETY.
Conclusion
I really like ETV and believe it can outperform the S&P 500 over the long term. It has an attractive yield that appears to be covered through its income and options strategy when looking at past performance. A typical options fund will underperform the S&P 500 during bull markets when options strategies become less attractive due to giving upside potential on returns to collect income, but the long-term performance would indicate that ETV can keep up with the S&P 500 just fine. I think ETV is a buy now even with a slight premium and would be an even better buy if this fund experiences any discounts in the future.
Please feel free to leave any questions or comments below in the comments section! If you like this article, please consider clicking the "Follow" button above to stay up-to-date on future articles.
Disclosure: I am/we are long ETV.
I wrote this article myself, and it expresses my own opinions. I am not receiving compensation for it (other than from Seeking Alpha). I have no business relationship with any company whose stock is mentioned in this article.