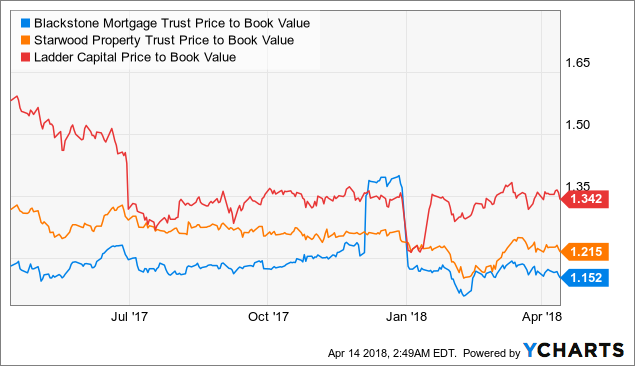 I have added to my existing long position in Blackstone Mortgage Trust, Inc. (BXMT) last week as I believe the reward-to-risk ratio is very attractive at today's price point. The real estate finance company is poised to benefit from the current rate hiking cycle through its large portfolio of floating-rate loans, which are going to produce higher net interest income as long as the Federal Reserve keeps hiking rates. Blackstone Mortgage Trust has a dividend that I think is sustainable and that could potentially even grow. An investment in BXMT yields 8.0 percent.
Blackstone Mortgage Trust – Snapshot
Blackstone Mortgage Trust invests primarily in senior commercial real estate loans, most of which are floating-rate and set the company up for net interest income gains during a rising rate period. That being said, though, positive interest rate sensitivity is not the only reason to consider Blackstone Mortgage Trust for an income-centered investment portfolio.
Blackstone Mortgage Trust's fundamentals are strong, and so are the fundamentals in the commercial real estate market. Evidence of this is that Blackstone Mortgage Trust has seen extremely robust demand for loans throughout 2017, with total loan originations increasing 37 percent to $4.8 billion compared to 2016. In the fourth quarter 2017, loan originations totaled $1.2 billion.
The beauty here: All new originations were floating-rate senior loans with a moderately low weighted-average LTV (loan-to-value) ratio in the low 60-percent range. These loans will produce higher net interest income for Blackstone Mortgage Trust as long as the Federal Reserve keeps pushing interest rates higher.
Source: Blackstone Mortgage Trust Investor Presentation
Today, Blackstone Mortgage Trust's investment portfolio consists largely of floating-rate assets (94 percent), and core earnings are significantly positively correlated with changes in USD LIBOR (interest) rates. The higher interest rates climb, the bigger the net interest income/core earnings tailwinds for Blackstone Mortgage Trust.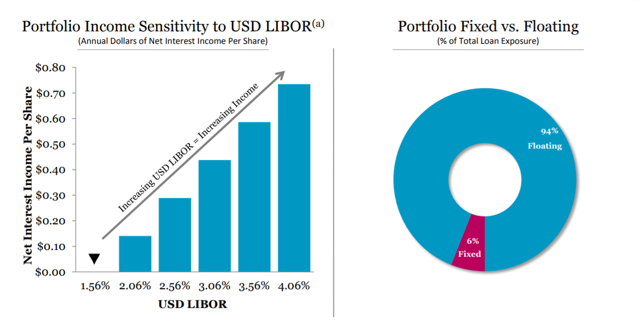 Source: Blackstone Mortgage Trust
I Consider The Dividend To Be Safe
Blackstone Mortgage Trust covers its dividend payout with core earnings, and it has done so for a while. The CRE finance company overearned its dividend with core earnings in 2017, presenting a dividend coverage ratio of 103 percent.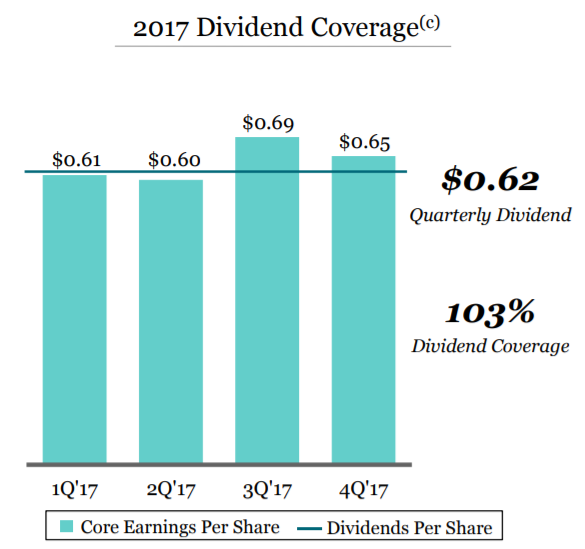 Source: Blackstone Mortgage Trust
Over a longer period of time, however, the dividend coverage ratio looks even better.
Here are Blackstone Mortgage Trust's core earnings, dividends and dividend coverage ratio over the last two-and-a-half years (average dividend coverage ratio was ~106 percent).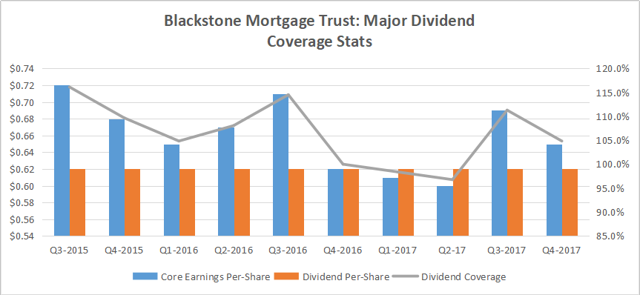 Source: Achilles Research
Blackstone Mortgage Trust Is Attractively Valued
Given Blackstone Mortgage Trust's strong focus on relatively safe, senior commercial real estate loans, good dividend coverage stats and interest rate upside, I think BXMT is a buy right now. Shares sell for ~11.9x Q4-2017 run-rate core earnings, and the REIT's valuation compares favorably against other commercial mortgage REITs in terms of price-to-book ratio, too.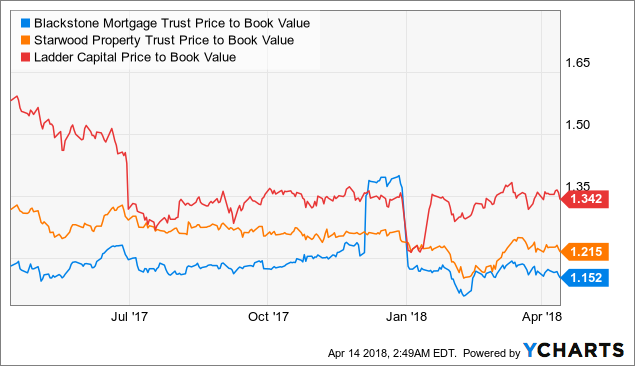 Your Takeaway
Blackstone Mortgage Trust benefits from strong origination growth, and the company has interest rate upside tied to its large portfolio of senior, floating-rate commercial real estate loans. The dividend is covered by core earnings, and even a dividend hike could be in the cards as long as interest rates are moving up. Shares are attractively valued, and an investment in BXMT comes with an 8 percent dividend yield. I am a buyer at these prices. Buy for income and capital appreciation.
If you like to read more of my articles, and like to be kept up to date with the companies I cover, I kindly ask you that you scroll to the top of this page and click 'follow'. I am largely investing in dividend paying stocks, but also venture out occasionally and cover special situations that offer appealing reward-to-risk ratios and have potential for significant capital appreciation. Above all, my immediate investment goal is to achieve financial independence.
Disclosure: I am/we are long BXMT.
I wrote this article myself, and it expresses my own opinions. I am not receiving compensation for it (other than from Seeking Alpha). I have no business relationship with any company whose stock is mentioned in this article.