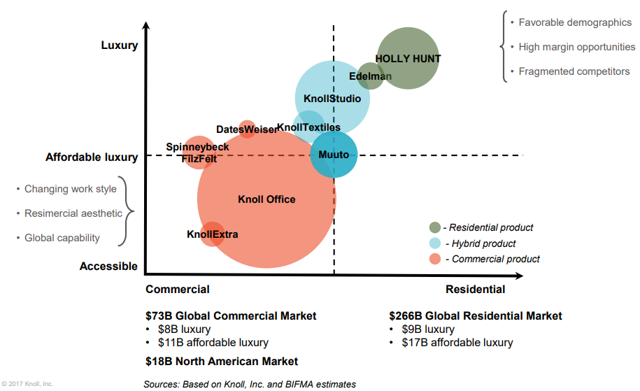 Back in 2016, office furniture maker Knoll (KNL) was my largest position. Knoll was cheap, growing nicely, and taking market share, creating a rather simple but still compelling bull case.
I took profits in early 2017 – somewhat reluctantly but very fortunately, as it turned out. KNL plunged last February after ugly Q4 results, and a difficult 2017 for the company, and in the industry, pushed the stock down further. I thought those concerns were more than justified, and resisted buying back into KNL even after it dipped below $20 on several occasions.
Those concerns still persist. The commercial furniture space probably has a tough couple of years coming even if the economy continues to cooperate. Commodity inflation (notably steel, which could see still-higher prices from recently-enacted tariffs) hit margins in 2017, and likely will continue to do so going forward. A weaker dollar hurts Knoll as well (though a recent acquisition will mitigate that somewhat). Competition from smaller firms seems to be rising, at least in part because average job sizes (per commentary from Knoll and rival Steelcase (SCS)) are shrinking. Cyclical concerns loom in the mid-term (potentially), and it's worth pointing out that the sector as a whole has been a long-term underperformer:
Chart since KNL IPO in December 2004; returns do not include dividends
But this time, with KNL again under $20, I've again taken a long position, even if this is not a 'set it and forget it' play. I like how Knoll has positioned itself, notably with the acquisition of Denmark's Muuto, which closed in January. Out of the big three in the space (including SCS and Herman Miller (MLHR)), Knoll looks far and away the best positioned from a product and brand standpoint for a changing demand environment. 2017 spending should benefit 2018 margins, at the least offsetting some of the pressure on COGS. I've long liked the company and its management, and I trust guidance for a much better 2018.
Meanwhile, KNL is downright cheap, with help from tax reform on the way in terms of both earnings and (hopefully) demand. Upside expectations should be reasonably modest (though a 3% dividend helps), and investors need to keep an eye on risks. But ahead of what should be a much better 2018, Knoll has a clear path back to the mid-20s, and with a couple of breaks, potentially some major gains.
An Ugly 2017
There's no arguing that Knoll's 2017 results were not pretty. Revenue fell 2.7% for the year, with a 6.6% drop in the Office segment. Gross margin compressed 170 bps, due to fixed-cost deleveraging from lower volume in Office and cost inflation (the 10-K estimates about 60 bps from materials and 10 bps from transportation). SG&A dropped 1.4%, but still deleveraged, with lower incentive-based compensation (which will reverse at some point) offset by higher head count. Knoll has talked about needing to put more "feet on the street" from a sales perspective, with CEO Andrew Cogan saying on the Q3 call that the figure was up 15%+ Y/Y.
Adjusted operating margins dropped to 9.6% after Knoll easily cleared a 10% target the year before (11.7%); adjusted operating income dropped 20%. Adjusted EPS fell 18% to $1.38, even with a lower tax rate.
There are concerns across the board, clearly. 2017 simply was not a good year – and the weakness was widespread. The Office business had the worst of it in 2017, with revenue off 6.6% (and flat over a two-year period). Segment-level EBIT margins dropped to 6.8% from 10.1% the year before, leading to a 37% drop in profit. But that wasn't the only problem: Studio adjusted EBIT fell 4.3%, and Coverings dropped 5.4%.
And the outlook isn't exactly rosy. There's potentially more cost pressure coming. The industry still looks weak. MLHR plunged after that company gave a disappointing outlook for its May quarter. Shares of all five publicly traded players (adding Flexsteel Industries (FLXS) and HNI (HNI)) are down at least 8% YTD, with an average decline around 15%. The argument I've made about the space as a whole for the last 3-4 quarters – that it's just too tough to invest in – seems to have been supported by results from Knoll and its peers – and by their share prices.
A Better 2018
But there's also reason for optimism looking forward. Knoll revenue grew 7.9% in Q4, reversing the year-long trend of declines. An easy comparison helped – again, it was Q4 2016 numbers that sent KNL tumbling in the first place – but looking at two-year growth the trend clearly has improved:
Q1: -3.6%
Q2: flat
Q3: +10.5%
Q4: +3.6%
And there are a number of reasons to see that trend continuing to improve as 2018 plays out. On the Q4 conference call, Knoll guided for "just north of mid-single-digit top-line organic growth," with Muuto likely contributing another ~7 points. In Office, bookings and a strong pipeline are supporting the optimism there (with an easy full-year comparison helping). In Coverings, KnollTextiles had a strong Q4 performance in terms of orders, though the longer-term profile there still looks reasonably flat given weakness in other businesses in the segment. In Studio, the European business is performing well (overall performance in the region actually set a record in 2017), and HOLLY HUNT is growing nicely, per the Muuto acquisition call.
From a revenue perspective, then, 2018 looks like a potential rebound year. With comparisons weighted toward the first half, that does provide a possible near-term catalyst (note that analysts are expecting 15%+ top-line growth in both Q1 and Q2).
On the margin front, the good news is a bit more uncertain – and a bit more muted. There are a number of tailwinds. Knoll is expecting 150-200 bps in help from continuous improvement initiatives. Muuto, which has ~50% gross margins, should provide ~50 bps of help for the full year. Pricing worsened as 2017 went on – but Cogan said on the Q4 call that it had stabilized, and a 2-3% price increase taken in January should help gross margins.
That said, Knoll is still guiding for gross margins overall to be flat to slightly up. As CFO Charles Rayfield put it on the call, the net benefit of the tailwinds will depend on "how much impact we see from commodity inflation and Fx headwinds". SG&A seems reasonably well-controlled, with additions from an increase in incentive comp and the addition of Muuto, but guidance for opex to be annualized at the Q4 run rate, those factors aside. The impact of the increased sales force will be lapped in the second half, providing some help as top-line comparisons stiffen somewhat. Interest expense will rise due to the debt taken on to fund the Muuto acquisition, but that effect should be offset by the benefits of a lower tax rate (24-26% vs. 31.8% adjusted in 2017).
All told, 2018 should be a better year than 2017. Revenue should rise, and operating margins should expand, both on an organic basis and thanks to higher-margin Muuto. Based on guidance, I do see a concern that analyst expectations look a little high (my model based on commentary suggests something closer to $1.55-$1.60 against consensus of $1.73), but Knoll should grow across the board. And I'm starting to actually like the longer-term case here.
The Long-Term Bull Case
The problem for office furniture manufacturers is that the industry has changed. The days of massive installations of individual workstations surrounding by cubicles are largely gone, replaced by "open office" plans and other innovations. All industries evolve, of course – but the problem for the space is that evolution isn't neutral. It's actually negative.
As both Cogan and Steelcase CEO Jim Keane have pointed out on past conference calls, revenue per customer worker for projects in the industry has declined. On the Q4 call, Cogan cited a "welcome rebound" in larger projects, but also noted that the opportunity funnel continues to favor smaller (under $1 million) jobs. That mix changes the calculus for companies like Knoll. It pressures margins: the need to chase more and smaller jobs is why Knoll ramped its sales headcount 15%. It brings smaller, less-scaled competitors into the bidding; while I don't have hard data on market share, anecdotal commentary from the majors and the performance of publicly traded companies relative to industry organization BIFMA's overall sales data suggests some level of share and revenue increases for private companies.
So the major concern facing the big three, in particular, is that macro indicators (CEO confidence, year nine of a relatively broad economic expansion, near-record equity values) should make the current environment an absolute boom for the industry. And yet growth is rather muted, at best (and as noted negative for Knoll). If recent performance is the best office furniture makers can hope for, what happens, then, when the economy reverses?
The two big risks here are that the industry simply is headed for stagnant overall profit growth at best, and/or that the macro/broad market environment changes. But as far as industry risk goes, Knoll is starting to diversify itself away from the biggest challenges: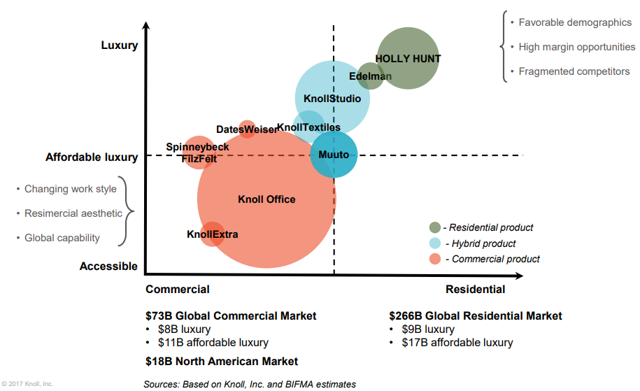 Source: Knoll presentation on Muuto acquisition, December 2017
And it looks far better positioned within the office business than rivals: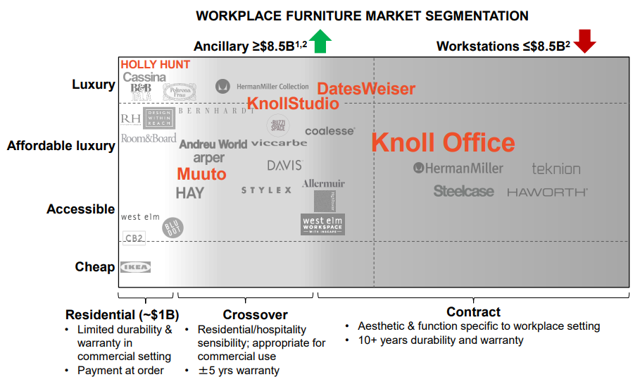 Source: Knoll presentation on Muuto acquisition, December 2017
As the slide above shows, the 'ancillary' category is growing. The workstation category is declining. Yet, per the Q4 call, for the first time, Knoll's orders of new products exceeded those of the legacy products. Those new products are growing "high teens"; legacy workstation and storage revenues are dropping low double-digits.
In Office, then, the headwind facing peers, and the industry as a whole, is starting to reverse for Knoll. Meanwhile, in 2017, 40% of revenue and 74% of profit, per the 10-K, came from outside Office. That's not the proportion that will be seen going forward, particularly on the profit side – Office needs to rebound from a margin standpoint – but the problematic part of Knoll's business is becoming an increasingly small part of the overall business. And relative to SCS and MLHR, Knoll's most direct peers, Knoll's impacted revenue and profits are far, far lower.
When considering Studio and Coverings, plus the newer products, the argument I made last year – that the industry is just too tough – is starting to fade. And the Muuto acquisition helps the bull case both from a qualitative and quantitative standpoint. The $300 million purchase only adds ~8 points of revenue growth this year. But Muuto is 49/51 commercial/residential, with zero exposure to the workstation/storage category. It adds international revenue, which mitigates some of the weaker dollar effect. (Knoll has production in Canada, which benefited margins in 2015-2016 as the loonie weakened. 12% of 2017 revenue, but 26% of COGS, came from outside the U.S., according to the K.)
Muuto also is higher-margin than the legacy business, and has grown revenue at a 33% CAGR the last three years, according to the acquisition conference call. Meanwhile, Knoll believes it can more than double Muuto's sales over the next 3-5 years, as it uses its domestic distribution capability to build out U.S. sales. Success there would add 3-5% EPS growth alone over the next few years.
So if the economy cooperates – and that's a big 'if' – there's a path for revenue growth over the next few years that should exceed the industry, and should exceed peers. Muuto will help. New products are hitting, including the company's Rockwell Unscripted line, launched last year. The workstation/storage headwind is fading. And the news should be good on the margin front as well.
There, too, Muuto will help. The new products should have more room for 'blocking and tackling'-type margin improvement under Knoll's continuous improvement initiatives. DatesWeiser, a small acquisition in late 2016, presented a drag on profits in 2017, but that should reverse in 2018. Add ot that help from tax reform and next year should be better – and Knoll's earnings growth shouldn't necessarily come to an end in 2019, either.
Valuation
Yet, KNL really isn't priced for much growth. The stock trades at 12x 2018 consensus, and 13-14x my model. Forward EV/EBITDA, pro forma for Muuto, looks to be in the 8x range, and KNL yields 3% as well.
In the context of the industry, admittedly, those multiples aren't notable outliers. MLHR trades at under 12x FY19 (ending May) consensus, and under 8x FY18 EBITDA. Steelcase is at 14x FY19 (ending February) EPS estimates and 7x trailing EBITDA, with long-running hopes for a turnaround in its EMEA business.
And there are risks here. Relying on M&A is always tricky, though the 2014 acquisition of HOLLY HUNT has been a winner for Knoll. Higher commodity costs could offset improvements elsewhere in 2018 and beyond. And there's really nowhere to hide for Knoll if the economy turns, though I'd rather have the higher-end exposure and brand of Knoll in that outcome than more commoditized offerings elsewhere.
Still, the market basically is pricing in limited earnings growth and a relatively near-term top in the business – and that seems too conservative. There's a clear path for KNL to get EPS near or above $2 in 2019 (consensus is at $2.04). A 14-15x EPS multiple – which Knoll has received off and on for the last few years – and an EV/EBITDA multiple closer to 9x both suggest ~50% upside from current levels. That's potentially an aggressive scenario – but it's not that aggressive, and even falling short suggests some appreciation toward the mid-20s plus a 3% dividend yield.
That said, this is more of a qualitative case than a quantitative case. If macro and/or commodity risks rise, KNL's multiples aren't going to expand. If the economy turns, the sector, and KNL, likely take a further hit. But at these levels, Knoll still offers a well-diversified, high-end manufacturer with valuable brands and a solid industry positioning at a multiple that suggests close to zero long-term growth. I can see why the market is pricing KNL that way, and I myself have done so in the not-too-distant past. But with 2018 looking stronger, and reasons for longer-term optimism, KNL once again looks too cheap.
Thank you for reading this Seeking Alpha PRO+ article. PRO+ members received early access to this article and get exclusive access to Seeking Alpha's best ideas. Sign up or learn more about PRO+ here.
Disclosure: I am/we are long KNL.
I wrote this article myself, and it expresses my own opinions. I am not receiving compensation for it (other than from Seeking Alpha). I have no business relationship with any company whose stock is mentioned in this article.