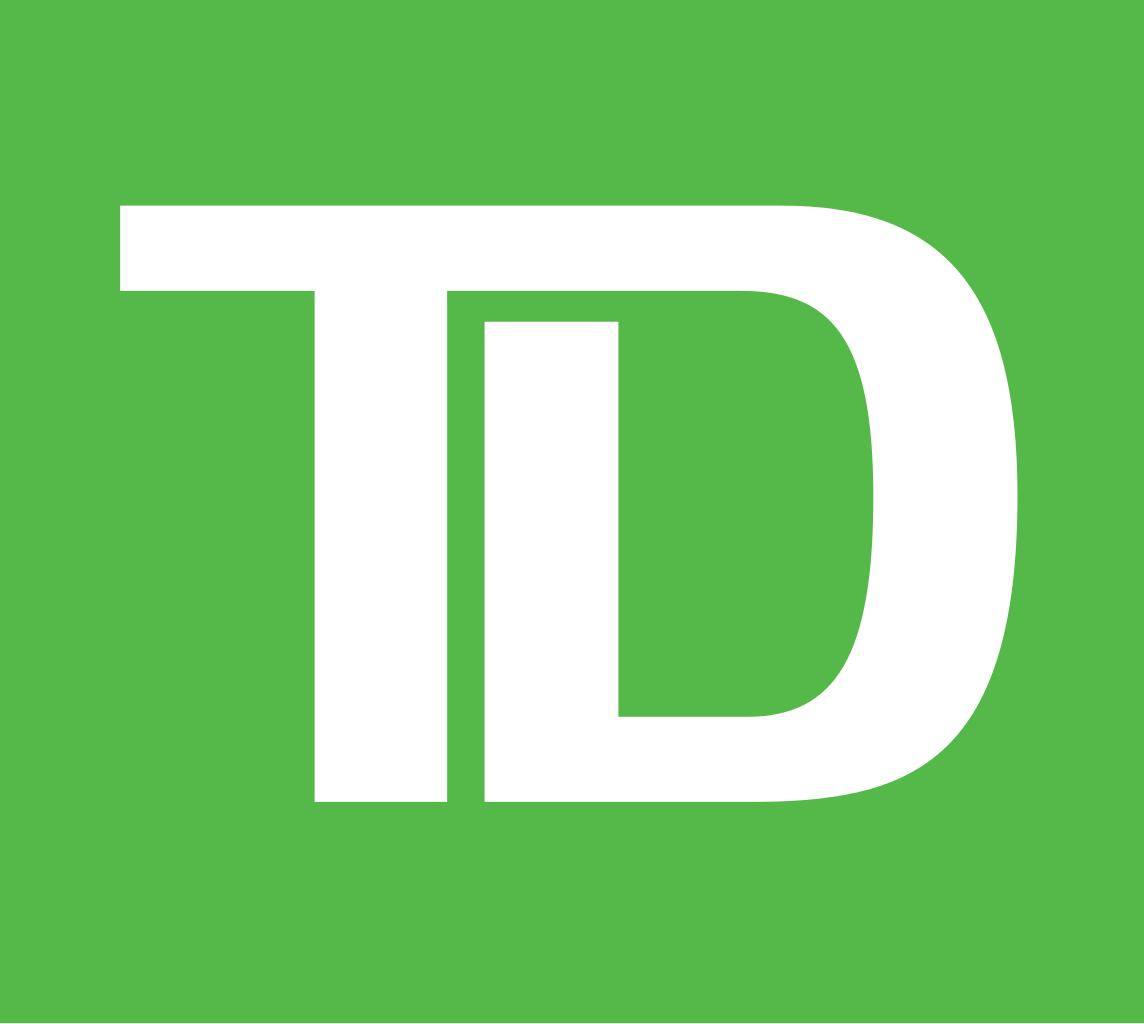 Overview
Among the top six Canadian banks, TD (NYSE: TD) is our top pick. We believe the bank offers a superior growth profile relative to peers given its strong US platform that we view as well-positioned to drive future growth. TD's US Retail business has a proven track record of outperforming local peers, a trend that we believe will continue, particularly given its deposit-rich balance sheet that is poised to see much more upside from rising US interest rates.
Source: TD Investor Presentation
Strong U.S. Business
A combination of higher interest rates, strong operating leverage and US tax reform, in aggregation allowed the US Retail franchise of TD (P&C Banking + the stake in AMTD) to exceed $1bn in quarterly earnings for the first time in Q1/18, a YoY increase of 28%. We believe these fundamental drivers will generate further returns in the interim. Strong revenue growth (+10% YoY), when paired with solid expense management (expenses up 6% YoY), led to operating leverage of +4.2%. US P&C benefited from U.S. tax reform, as the segment tax rate declined to 11%, from a run-rate of 17%. We believe the bank's superior growth profile remains intact, driven largely by a favourable outlook for the US business. The impact of US tax reform on TD's earnings is even more material than what we had anticipated, amounting to ~US$300mm in F2018 based on management's guidance (~US$225mm in US Retail and a further US$75mm on the bank's stake in TD Ameritrade).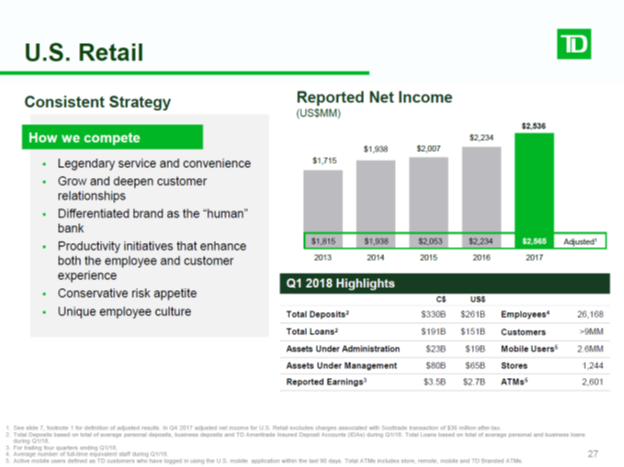 Source: TD Investor Presentation
Although TD's US Retail segment delivered another strong quarter, performance continued to be impacted by seasonality in the unit's loan loss provision line tied specifically to third-party credit cards and indirect auto lending. With respect to the US credit card portfolio, loan loss provisions tend to be seasonally high in Q4 and Q1 as balances rise during Christmas shopping season. The good news is that provisions should drop materially in Q2, and although the bank's overall PCL ratio was 45 bps in Q1, management continues to guide to 40-45 bps for the year as a whole. We believe that TD should be able to meet its guidance as the year moves ahead.
Excess capital provides optionality to grow
TD's CET1 ratio ended Q1/18 at 10.61%, down 9bp QoQ. The move in the bank's CET1 ratio was attributed to (1) strong capital generation, (2) the impact of U.S. tax reform, (3) an organic RWA increase, and (4) an increase in RWA due to regulatory floor. That translates into slightly more than C$5 billion of capital in excess of a 10.6% CET 1 ratio. We see a growing likelihood that the bank will deploy some of that excess capital to further enhance its footprint in the US, although management reiterated its previous guidance of taking a disciplined approach to any future acquisitions. That said, given that acquisition activity at TD under the leadership of CEO Masrani has been relatively quiet, with the bank now at the forefront of the sector from a capital perspective, we expect to hear renewed conversation regarding the potential for additions to the US footprint. We expect ongoing expense management to drive greater efficiency in the bank, partially offset by the need to reinvest in the business.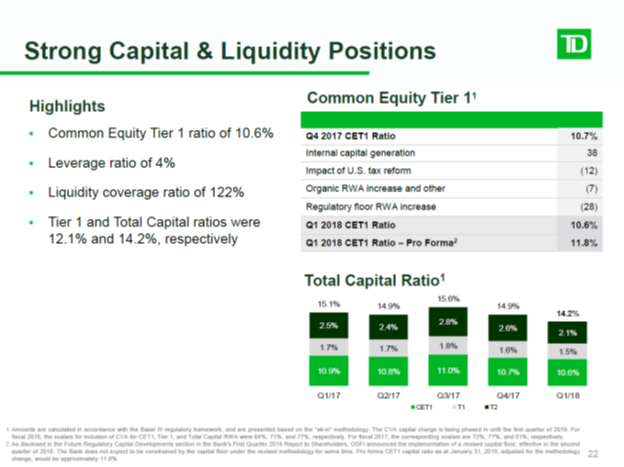 Source: TD Investor Presentation
Credit Quality Remains Strong
Total bank PCLs were $693 million. This figure includes $136 million of Stage 2 provisions (i.e. IFRS 9's new volatility-inducing provision category). We note this figure was influenced by the TD Strategic Card (e.g. Target) portfolio and, as such, most of the increase actually gets passed through to its partners. PCLs stood at $602 million or 39 bps of loans in Q4/17 and $635 million or 42 bps of loans in Q1/17. The sequential increase reflects an US$81m uptick in the U.S. driven by seasonal trends in cards and auto. While the sequential increase in PCLs was partially also due to Q1 seasonality, overall credit trends remained stable in the quarter as demonstrated by reductions in GIL formations (-2% YoY) and in the GIL ratio (-8bp YoY) to what management termed 'cyclically low' levels.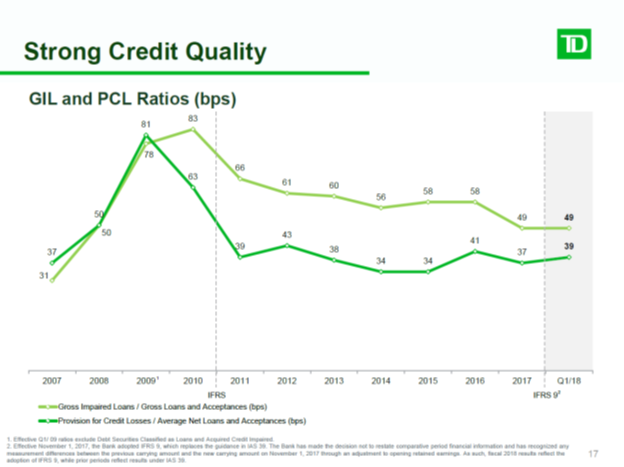 Source: TD Investor Presentation
Our View
In our view, strong execution in the Canadian and U.S. retail business as well as TD's strong capital position will ensure that the bank remains a BUY in our books. Another solid quarter reflects well on TD's diversified North American retail banking franchise (including recent U.S. tax reform), and also shows the benefits of productivity saving initiatives at the bank in the past couple of years. We estimate the stock to trade in the US$65-US$70 range in the next twelve months, an upside of 21% from the current stock price.
Disclosure: I/we have no positions in any stocks mentioned, and no plans to initiate any positions within the next 72 hours.
I wrote this article myself, and it expresses my own opinions. I am not receiving compensation for it (other than from Seeking Alpha). I have no business relationship with any company whose stock is mentioned in this article.